Submitted by siteadmin on Wed, 08/19/2009 - 7:14pm
We understand some parents are interested in purchasing fins for their swimmer(s). Here's a product that the coaches' recommend: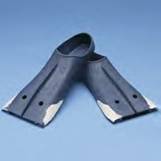 Z2 Zoomer Training Fin
Price:
The Z2 model results from years of ongoing field research, and incorporates a series of design characteristics including:
- A fluid separator that reduces non-propulsive drag on the downward kick. More of the effort put in comes out as propulsion.
- Underside fin architecture that catches more water thereby increasing the effective propulsive surface area.
- Innovative geometry that allows differential blade flexion.
- The fin blade immediately bends to an ideal angle of attack on the downward kick. Propulsion begins the moment the fin starts to move down.
- The underside of the fin is more resistant to flexion on the upward kicking movement. No more propulsion is lost due to excessive blade flexion.
- The Z-2 truly feels like a natural extension of the foot.
THE Z2's RUN ABOUT 1 SHOE SIZE LARGE. IF YOU ARE BETWEEN SIZES CHOOSE THE SMALLER SIZE.
Sizing Chart:

Z2



Z2

A


B


C


D


E


F


G


H


I



MEN


1-2.5


2.5-4


4-5.5


5.5-7


7-8.5


8.5-10


10-11.5


11.5-13


13-15


WOMEN


2-3.5


3.5-5


5-6.5


6.5-8


8-9.5


9.5-11


11-12.5


12.5-14


14-16